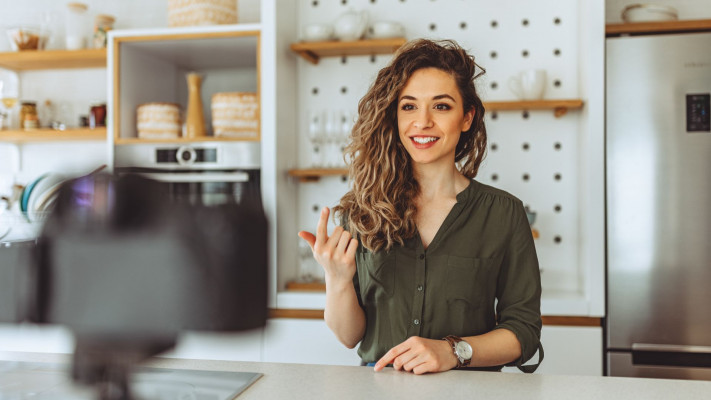 The Ultimate Guide To Creating Content in 2023
03rd January 2023
It's a new year - which invariably means it's a new you. Perhaps you're looking to streamline your content creation process, make more videos, earn more income from content creation or perhaps you're looking to get into the content creation game this year! Whatever your resolutions or goals are, this is your ultimate guide to creating content in 2023.
The creator economy is now well established, and creators have more influence than ever when it comes to endorsing products and influencing trends on social media. This means that the way in which content is created looks very different than it did not long ago. You've got to be smart about it to stand out from the crowd - but don't fret, it can be done!
Research
You used to be able to just come up with an idea, film it, post it and add some hashtags to see if it gained some traction. You can still do this, but it feels unlikely that you'll get very far. So some research will certainly not go amiss. Think about what your audience is looking for - what do they want to see? If you're an established content creator, you can go looking in the comments of previous videos as well as checking out what's trending. You always want to make sure you're up to date with the latest trends and get on them immediately - they move pretty fast! If you're a new creator then research some creators who are doing something similar to you. Or think about who your audience is and find creators with whom that demographic engages. This will give you a good idea of the kind of content they want to see and you can emulate other successful creators.
Keywords
There's no point in making content if no-one is going to see it. So you need to find ways to increase your reach. Including keywords in your content is a great way to do this. Do some manual research into what keywords surround the topics you are posting about. A good way to start is to type in the first few words of your video title and see what the suggested search terms are. Again, looking at the example of other creators will do the trick - see what keywords and hashtags they use on similar content. This will make it much easier for your audience to find you.
Brainstorming
You have your topics in mind, now you need a whole host of ideas to work with. Whilst I'm sure your first idea is a slam dunk, perhaps have a brainstorming session where you think of lots of ideas for the same topic. You want to make sure that everything you post on the topic is the best it can be. You could post multiple videos on the same topic if you like but fewer posts of a higher quality is a better plan generally. This may also open up the topic and you'll think of a load of subtopics and other ideas that you hadn't thought of before! Sessions like this also mean that you can more comprehensively plan your content. Having a backlog of content is helpful for organising your content calendar. Posting consistently is a good way to increase your following, so having a backlog to ensure you never fall behind is never a bad thing. If you need help making a sustainable and healthy content calendar, check out our last blog here!
Creation
Gosh… a lot of work has already gone into this before anything has actually been created. But it's all necessary legwork before the fun bit. Whatever your platform or medium is, make sure you stay on topic and keep it consistent. Let your personality shine through no matter what you're doing. All the work you've done up to this point will mean you can have fun with your videos, your blog, podcast, or whatever you're working on and then breeze through all the boring admin bits.
Editing
Always, always, always review your work. It's important to look at what you've created with a critical eye. Top tip for editing: BE BRUTAL! If there's anything that doesn't align with your message or a moment in your video when the momentum drops, cut it out. No matter how funny the thing you said was, or even if there's a keyword in that moment - including a keyword isn't worth your engagement dropping because people lose interest. Algorithms tend to look at how many viewers watch right to the end of the video, so you want to keep them hooked!
Scheduling
I'm hoping you stopped to read my content calendar blog and then came straight back here to continue reading this. If you did do that then you'll already know the importance of scheduling your content. This allows you to create a backlog of content - everything ready to go and you can just sit back and watch the views roll in. All your hashtags, keywords and content is good to go and you can look forward and focus on the next thing! When you're working with multiple platforms, it's helpful to be able to view all of them in the same place to avoid confusion!
Another vital aspect of maximising your reach is making sure that you publish your content at the right time of day to ensure people see it! You can play around with this a little bit and test out different times of day and days of the week. Try times when you think people might be at home, maybe recovering from a big night and just sitting on their phones…
Promotion
A common mistake people make with content creation is thinking that the hard work is done when that publish button is pressed. Work promotion into your content calendar, thinking about the ways in which your audience engages. Top tip for promotion: Don't neglect email marketing - you might think it's a dead medium but it's not! People actually pay much more attention to their emails than to social media. As with every topic you can think of, there's a SyncVault blog which tells you all you need to know about how to promote your videos! Check it out here.
Collaborations
Working with other creators is a great goal for the new year. There are endless benefits to this including harnessing the power of someone else's audience and increasing your reach. You can think of new content ideas to work on together and launch your career. Hey, why not read the SyncVault blog on this too! Here it is!
There you have it! Creating content this year is all about using your head and laying the groundwork before you hit publish. Set some goals and make sure you're making content the right way to maximise your reach and hit those targets!