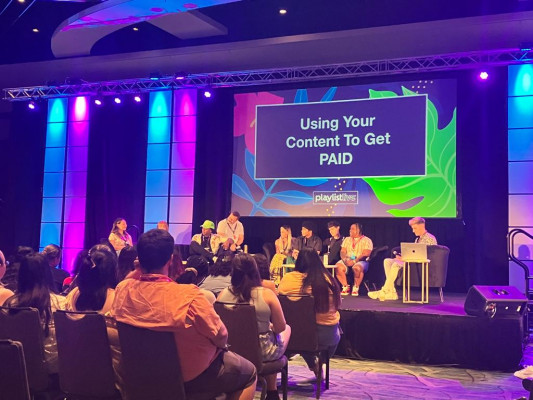 Playlist Live 2022
12th September 2022
Last week, our community team jetted off to Orlando for Playlist Live 2022 - an event over three days of creator panels, events and parties. The event was attended by thousands of budding creators all vying to get an insight into the world of their idols. Creators shared their stories of how they got started, their biggest challenges and top tips for the aspiring content creators. The panels were energy and fun-filled covering a huge range of topics from 'How To Get a Million Views' to a live game of mafia or the Tortilla Slap Challenge. It was exciting to hear how you can build enough of a following to make a living from content creation from people who did it and explore revenue streams you hadn't even considered - such as live streaming on a dating app!

In addition to 'How to get 1000,000 views on a video' - a panel featuring prominent content creators such as Anthony D Griffin, Katie Feeney and Kelsi Davies, more great value was offered by the conference to aspiring creators. They were able to have a hands on video production workshop with the likes of Doug Armstrong and Jess Val Ortiz; get the opinion of TikTok and YouTube creators such as Colie Nuanez, Corey Funk and Markell Washington on which platform is better and hear exciting stories from Lilah Gibney and Tana Mongeau. There was great music on show as well with up and coming band No Lonely Hearts, country singer Cameron Bogle and Spencer X making appearances at the weekend.
A particular highlight of the conference was a feedback session during which creators watched the TikToks of some fans and critiqued their content, giving them tips on how to improve. The whole event exemplifies the huge and incredibly supportive community in the creator world, comprised of some of the world's best creators and the future stars of social media. If you're looking for the top tip on how to get to their level - it's just three words: JUST KEEP UPLOADING!
If you head over to Orlando for this event next year, be sure to stop by the exhibition hall where you can see how some great brands can add value to your career. From editing software to gourmet nuts for a brand deal, chatting to brands is a great way to expand your network and see how you can enhance your content.
Overall, it was a jam-packed weekend which provided young fans and creators with a great insight into how they can turn their passion into a career. And our team was there for all of that too! So keep an eye out on our social channels and Facebook Group to get our top tips from the event which can help you grow your brand and maybe one day you'll end up on the panel at Playlist Live!