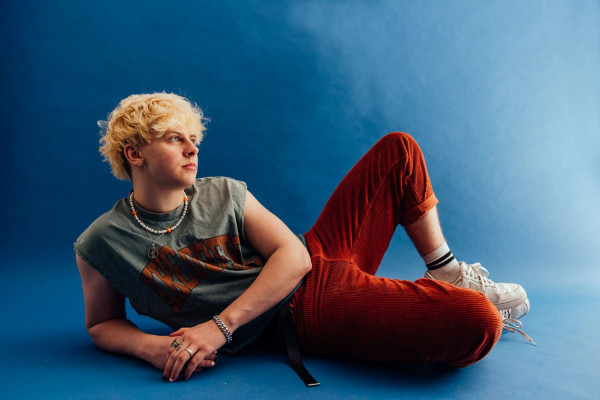 NOAH FINNCE - Syncvault's Vlogger of the Year
27th September 2022
Last week, the team headed into central London for the Blogosphere Awards 2022. The evening was a fun-filled ride of selfies, photo-stations, fantastic food and drinks, music and of course… lots of awards! We were honoured to be part of the ceremony as we not only sponsored the award for Vlogger of the Year, but we were able to bring Isle of Wight based artist Ulysses Wells to perform at the ceremony. His bone crunching beats, and screaming guitar solos wowed the hall of creators and brands alike.
The ceremony was hosted by the brilliant Matthew and Ryan - LGBTQIA+ creators who share an honest account of their life and adventures to their huge audience of 7 million followers. Their content is varied and diverse - from travel to comedy content, they bring something of themselves to everything they do. And the awards were no exception! They brought the energy to the room as they ran us through the 34 awards categories.
The nominations for the awards were decided by the public as fans nominated their favourite creators. More than 50,000 creators and brands were nominated; the competition was fierce, but eventually the judges were able to whittle the nominees down to shortlists. The recipient of each award was decided by a combination of a public vote and a panel of expert judges which included the former CEO of a talent management company and the founder of an ad consulting agency.
We sat, watched and cheered as awards were handed out. And after some moving and joyful acceptance speeches, the time arrived for the Vlogger of the Year Award, sponsored by SyncVault. We were thrilled with the 5 incredible creators nominated in this category. Frankly, all of them were more than deserving of the award, but ultimately there can be only one winner! And on the night, that winner was the incomparable Noah Finnce. Noah is a dynamic and multifaceted creator. For years now, Noah has created engaging and hilarious content and in the process developed an incredible community of 'under achievers' (as he calls them) and a safe environment to talk about anything and everything. In addition to all of this, Noah is a rather brilliant musician. The multi-instrumentalist and pretty prolific songwriter has just been on a sold-out tour in the US and UK. His music brings to mind coming of age stories of the early noughties with relatable lyrics no matter your background. Noah is a very worthy recipient of the Vlogger of the Year Award and who in the room will ever forget his speech consisting of just one word shouted down the mic: 'THAAAAANKS!'