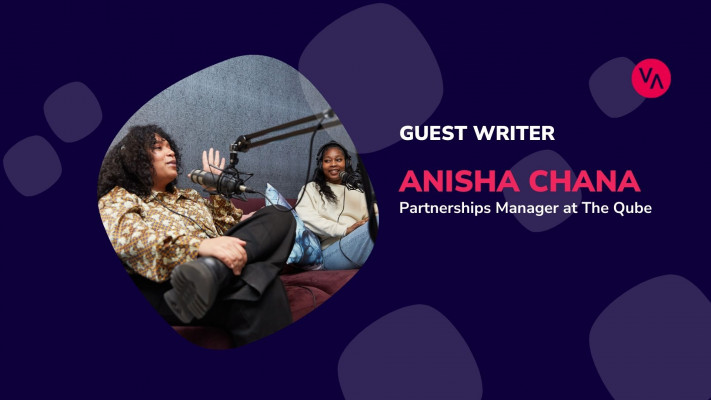 How to Build Your Creative Network
06th December 2022
Guest Blog by Anisha Chana - Partnerships Manager at The Qube
An established network is perhaps one of the most important things you can have when working in creative industries. You can have all the skills and qualifications in the world, but without knowing the right people, it's likely you won't get as far as you'd like to. This can be daunting for those starting out, especially when you don't come from a family of creatives to help you out. That's why we've come up with our top 5 tips to help you get your foot in the door and build a network of like-minded creators.
Be confident in talking about your accomplishments
Selling yourself can be difficult when starting out, but downplaying your work will only put you at a disadvantage due to the highly competitive nature of creative industries. It's important to remember that no matter how big or small your accomplishments are, everyone has started somewhere. Have a sense of conviction about what you've achieved and work on feeling comfortable when talking about the things you're most proud of to other creatives.
Be clear about where you're at and where you see yourself going
Having clear direction and awareness of your goals is an attractive quality to have when networking with other creatives. Have a think about where you want to be in a year and most importantly, what you want your work to stand for long term. If people can visualise your potential, they'll be more likely to invest in you and help you out with your next steps. Be as ambitious as possible - the sky's the limit!
Go to the right social events
One of the most useful things you can do is get out as much as possible and soon enough people will start to recognise not only your face but also your dedication. Certain networking events are more beneficial than others when it comes to establishing industry connections. Whilst the bigger parties and events can be a lot of fun, it can be more difficult to find meaningful conversations with people. Consider attending more intimate venues where you'll be able to
Have work ready that you'd be willing to present
It's one thing to talk about what you're capable of, but it's another thing to have something to show for it. Make sure you have a portfolio of work that's ready to present to others. If you've had a successful conversation with someone you'd like to work with, don't be afraid to get their contacts so that you can send them your best work. That way they'll be able to see your talent firsthand.
Find a creative base
Joining a space where you can create alongside other creatives is a quick and easy way to make industry connections without having to put in much effort. Currently based in West London with an East London site opening in January 2023, Qube is a creative hub consisting of top-tier recording studios and makers spaces across music, podcasting and photography. Operating on a members-only basis, you'll find yourself surrounded by creatives just like yourself without even having to look. To read more about the Qube click here and apply for membership today.