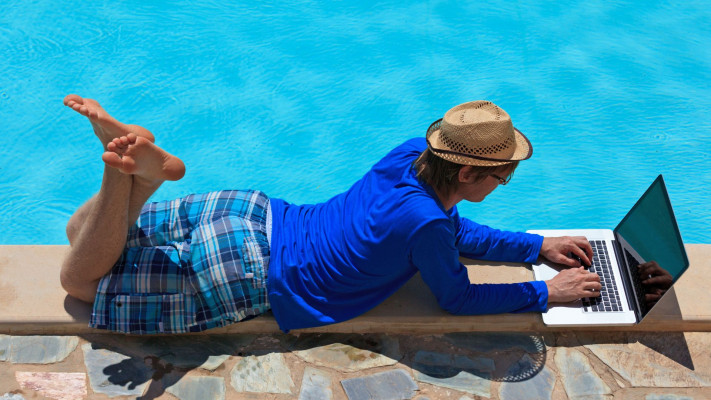 Holiday Blues - How To Get Back to Work
06th September 2022
Alright gang, sorry to be the bearer of bad news but summer's over - back to work. Of course, if you're a content creator the work never really stopped; every vacation is a content capturing trip but perhaps you took some time away from the editing screen at least. Even so, it can be very difficult to regain your motivation and get back to the hard work. So here are some tips to get you back into the swing of things.
MINDSET
Make Your Bed
Bear with me - weird one to start with. If you start the day by making your bed, you start the day by achieving something. Something small, yes - but you've started the day with a positive action which will set you up rather nicely for the day ahead. That's why they do it in the military and that's why you should do it too! Also, if you make your bed, you're far less likely to climb back into it.
Make Lists
This is another mindset tip. The physical action of striking something off a list is satisfying and rewarding. I actually know someone who enjoys that feeling so much that the first item on her daily to-do list is always 'make a to-do list'. But it works! Once you get that euphoric rush of ticking something off the list you'll end up chasing it every day. It can also be good to make longer-term lists and your short-term lists can work towards those goals. Doing this, you can work out your schedule and stay productive.
Dress for the occasion
If you're working from home, it can be easy to get into the habit of putting on some sweatpants and doing some work in front of the TV. You might think it's just easier and frankly it saves on laundry. But wearing 'work clothes' can be a huge part of getting into the right mindset to work. So dress as if you were going into an office. If you dress for work, you'll feel like working.
ENVIRONMENT
Plants!
I have real trouble keeping plants alive, so this one is an issue for me. But having a plant or two in your workspace can be very beneficial. Studies have proven that having a plant in your workspace helps to reduce stress and boost productivity. Of course, we all know that plants have a delightful habit of purifying the air and at a very basic level, a splash of colour could help to boost your mood.
Block Distractions
The first day back is always the worst - it's very tempting to take a long lunch, drag your feet on tasks you'd otherwise put off or spend hours procrastinating. But it's very important to power through at least the first few hours. Catch up on emails, plan your content and do the boring stuff first. If you can get through the first day without distractions, you'll be back into it in no time at all.
Tidy Desk
The best way to make sure you can get back into the swing of things easily is to make sure your workspace is tidy before you leave for your holiday. If you get back and your desk is a mess, it can quickly become a convenient way to procrastinate. If you keep your desk clear, you'll be able to launch right into your next project.

BODY
Take a Break
Make sure you take sufficient breaks. You don't want to go from being relaxed on holiday to being burnt out straight away. Making sure that you give yourself a break every now and then means that you can stay focussed on the task at hand and maintain a good level of productivity. Some people like to schedule their breaks periodically but for others it might work best to use breaks as a reward - you can take a break once you've done so and so…
Brain Fuel
You might have just had a week or two away, perhaps with a buffet breakfast… the dream. But you're back to reality now I'm afraid… you switched off your mind for a bit but you've got to make sure you're giving yourself the right fuel for what you're working on. That means lots of fruit and veg. If you're a snacker like me, snack healthily! This will ensure that you remain feeling fresh and ready for anything.
The post holiday blues are always really tough to get over. Of course it's going to take some doing to get back to work. But as a content creator there's never time to lose! So make sure you do everything right and you can launch yourself straight back into a new project.