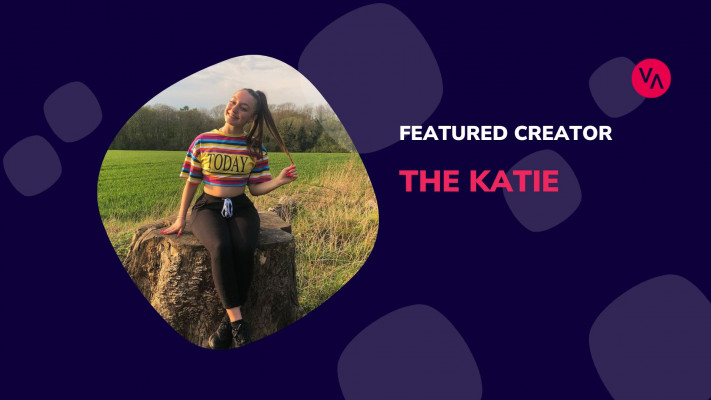 Featured Creator : The Katie
25th January 2023
Last year, our Chief Community Officer sat down with The Katie to talk about her channel, how it's evolved over the years.
What inspired you to start your YouTube Channel?
This is going to sound weird, but me and my best friend were in school and we said 'we're bored, shall we start doing YouTube?' So we asked all our friends if they would watch us for a laugh, doing challenges. They all said 'yeah' so we started that channel with about 60 subscribers from school and then all of a sudden our second video got 2000 views or something and we hit 1000 subscribers within a month. It just caught on and I thought 'this is what I'm doing now then…' Now it's just me but that's how it started. It was 'The Katies' but now it's just 'The Katie'.
How did your channel evolve?
We were always looking out for trends and we saw people doing shopping hauls. So our first haul just took off and we thought 'maybe we should be doing more of these'. We'd done so many challenges over the years we were running out. Then we started getting sponsorships for clothes and stuff so we realised this was definitely our forte.
Do you follow a content plan?
I'm not going to lie, I'm not very organised. I have a lot of promotions going on and I've been on holiday so I came back to multiple promotions which all have deadlines. So I thought I have to try and do it every single week now. So I kind of just go by what my deadlines are for the promotions and then filler videos so it's not just promotional stuff. I'm also getting into Shorts as well. I went to this YouTube meeting thing and they were telling us all about the ins and outs of Shorts - people's channels are seeing so much growth with them so I'm getting into that.
What's your dream brand collaboration?
Ooo… I would say maybe Fashion Nova, or maybe like Pretty Little Thing. Anything where your friends might go to shop and then see you as the model, I'd be like 'I made it!'
Have there been any brands that have been a dream to work with?
YesStyle. I work with them monthly now actually. I get to pick out 20 items, do a video and that's all they ask for. I'll do Shorts and stuff as well but they don't even ask for that. They've been so nice to work with - they always reply really fast and everything. Because I've worked with them so long, I've dealt with lots of different people and everyone is amazing.
What advice would you give to someone starting out on YouTube?
I would say, definitely pre-promote it to your friends and family. They're like your base of people - people hopefully want to support you. And then when you start uploading, be consistent. Even if your videos aren't doing well, be consistent. Even though we went up to 1000 subscribers, I think it took a good 2, maybe 3 years to then hit 10,000. So it can just fluctuate. But then when we hit 10,000, we went to 100,000 in about 6 months or definitely within a year. It was like we hit that threshold and YouTube was recommending us.
Have you had to deal with trolls and hate comments?
All the time. We used to make videos reacting to hate comments. That video did really well and everyone was creasing, telling us to do more of it. You've got to just brush it off and you can make content out of it. As long as you're happy it doesn't matter.
Has SyncVault helped you with finding music for your videos?
Yeah! When you film in clubs and stuff, obviously you can't monetise the music there. So I'll just blank it out, pick an upbeat-y sort of track and it just looks great and I'm making money at the same time so it's great!
You can find The Katie on: