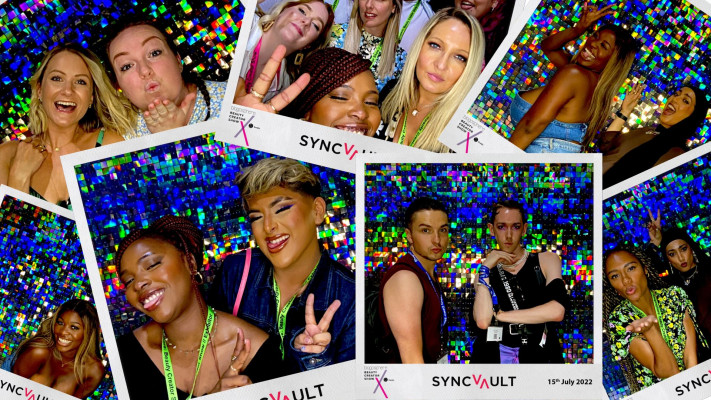 Blogosphere Beauty Creator Show 2022
19th July 2022
Last Friday, the SyncVault team headed to Shoreditch, London for the Blogosphere Beauty Creator Show 2022 - an exclusive, invitation only event showcasing not only the very best beauty creators out there, but also the brands that support them. The day kicked off with a panel hosted by Blogosphere Founder and CEO, Alice Audley. The panel, which included Snatched by Will, Nikki Lilly, Monia from Eminence Management and Andie from SEEN Connects, shared their insights into Gen Z and the future of beauty content online. Towards the end of the morning session our very own Chief Community officer, Jess and Head of Marketing Bianca took to the stage to talk about SyncVault after which a number of creators headed over to the SyncVault stall to talk to the team about how they can get involved. We're trying to tell ourselves that it was the selfie machine and sparkly backdrop that attracted so many creators and influencers to us! And all of this was soundtracked by SyncVault artists from our tailor made Blogosphere playlist!
In addition to meeting loads of creators, we also met great companies providing creators with everything they need - from Stobbs who help creators with all things legal, to Peblo who solve the pain point of brands paying creators late for their work. We connected with our partners at YouTube as they gave their presentation on how to get the most out of YouTube Shorts.
The event was a resounding success with a full house of creators and guests - I don't mind admitting that Ieft with a few high end beauty products courtesy of the lovely people at AGORA. We were honoured to be a part of it and can't wait for the Blogosphere Awards coming up later this year!