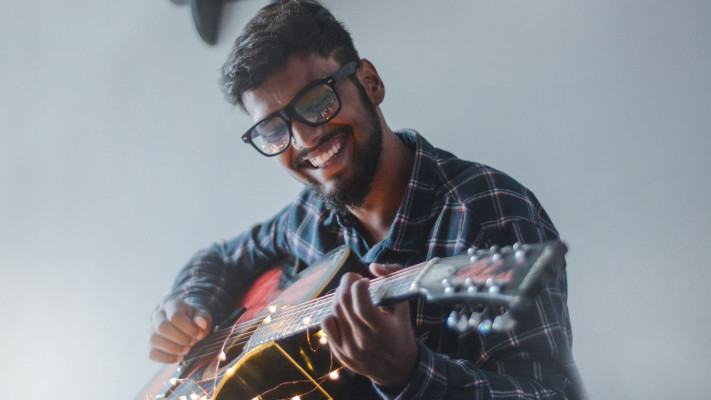 7 Ways To Make Money in Music
13th October 2022
For many musicians, the dream isn't to sell out arenas and tour the world. The ultimate goal is just to live off their music - to spend their working life doing something they love. It's a dream that we're all told is difficult to achieve. In recent years, this has been made even more difficult. So here are some ways to make a living as a full time musician - some you may know, others you may not have thought of…
Royalties
Yes, I know - royalties these days are famously not going to do the job; you need millions and millions of streams to really see the money come in. But there are different types of royalties that you may not be collecting. If you're a songwriter or composer and you want to make money from the underlying composition, make sure you're registered with a performing rights organisation. There are different business models depending on which one you sign up to. Some require a flat sign up fee, and others might take a small percentage of your income - which you go for is really just down to personal preference. Signing up and registering your tracks when they are released means you'll be able to collect royalties every time your music is played publicly. This includes radio broadcasts and live performances. The amount of money a songwriter receives will depend on the deal they have with their publisher. Of course, a completely independent songwriter will receive 100% of the royalties. This is not the case when it comes to publishing deals.
If you're a session musician, playing in bands or on recordings - you are entitled to performance royalties. When you play on a recording, you should be registered as a performer on the track which entitles you to receive royalties every time it's played publicly.
Performance
Performing live is the bread and butter of a musician's career. It's essential for so many reasons. When you're starting out, it can be difficult to get gigs that pay but it's important to know your worth. Sometimes it can be beneficial to play a really good gig for free or 'for exposure'. But on the whole, you should try and avoid this. One thing's for sure, at all costs, avoid pay-to-play gigs. Happily, awareness of how damaging the pay-to-play model is to up and coming musicians is on the rise; however, they do still happen. When you book gigs, make friends with the promoters and make sure you can get another gig there in the future.
Live Streaming
As we were all locked indoors for two years… live streaming gigs took off out of necessity. Platforms like Twitch and Bandcamp Live can support live streaming gigs. Whilst in-person events have now happily returned to our lives, live streaming gigs could be a really good way to get some income without spending any money on transportation, accommodation etc.
Merchandise
The benefits of selling merchandise are huge. Fans feel like part of a club if they're all wearing the same t-shirt or have the same keychain. Outside your gigs, they're walking billboards as well. The initial costs can be high, as you want to get good quality stuff - but if you're confident you can shift it for a good profit, it's well worth it. You can integrate a shop on your website or platforms such as Bandcamp have inbuilt systems to make making and selling merch super easy.
Grants
This is a well kept secret in the music industry. There are so many organisations that offer significant funding to independent artists. Obviously this depends on what country you're in - so check out the website of your country's Ministry for Culture and see what you might be able to get. It could be a great way to get funding for a new project. This way you can focus your own money on other areas and advance your career even faster.
Crowdfunding
Artists who use crowdfunding platforms swear by them. It's a fantastic way of having a guaranteed monthly income. It's also one of the best ways to build a proper community of fans. They feel like they are not only supporting you directly, but they actually have a hand in what you're doing. They can influence your output. This means that you're never giving them anything they don't want and will be all the more inclined to support you. As with anything, it takes a lot of thought, preparation and work. But it's well worth it.
Sync
You'll always be told that sync is one of the best ways to get your music heard but the masses. It also happens to be rather well paid - just a minute or so of background music in a prime time show will get you a few hundred quid! What's more is that royalties will keep coming in whenever it's shown on TV or streamed on demand. If you can get a few of these on the go, you'll get yourself a healthy income from sync. The best way to get deals like this is through a publisher as it's part of their job to find sync usage for your music. You could also try your luck getting in touch with music supervisors but in general, they prefer things to be done through the publisher channel.
If you think outside the box, you can make a living from your music sooner than you think!