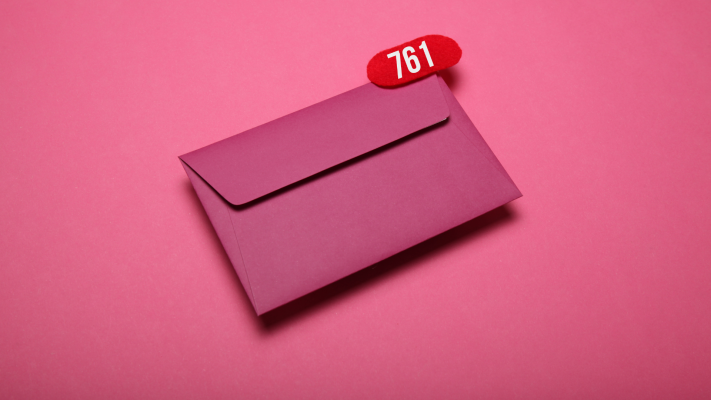 7 Tips For Email Marketing
21st February 2023
I've said it before and I'll most likely have to say it again and again: email marketing is still important! In the age of social media, it's so easy to think that no one wants to be contacted by email and no one even checks their emails - this quite simply isn't true. People look through their emails in a very different way to the way in which they scroll through social media - people pay attention to the emails they receive and therefore the people to whom you are sending your marketing emails tend to be more engaged followers than those who are just on social media. So building up an email list is very important, don't overlook this opportunity and read on for tips on how it's done!
Sign Up to an Email Marketing Service
People who sign up to your mailing list are giving permission for you to store their email address. If they unsubscribe, the email service of your choice will remove them from the list automatically to ensure everything you do is GDPR compliant. Which platform you choose will most likely just come down to the features you need, the interface and user experience. At SyncVault, we use MailerLite, which works well for us in showing appropriate and accessible analytics and the content creation tools are nice and easy to use.
Create Valuable Content
If someone has signed up to your email list, then they already like the content you're making and want to be more engaged. You need to be providing content and information that those who are not signed up to the email list can't get. Focus on providing as much value as possible for free. You can treat it a little like a crowdfunding campaign where you reward your most engaged followers for signing up to your mailing list. It's a great way to build loyalty. You could incentivise your followers on other platforms to sign up - this could be with a one-off freebie or this exclusive content. Using a social media giveaway could be a good way to drive people to your mailing list; signing up to the mailing list could be the way of entering the competition.
Use Onboarding Emails
How can the freebies and exclusive content be used to their full potential? You can give your subscribers this extra added value from the word go. Lots of email marketing services have automation features whereby when someone signs up, it triggers welcome emails or whatever you like! This is where you can offer your one-off freebie or exclusive content like a webinar or invitation to an event. Offer some more in depth information into who you are and what you do; this is where you can talk about your story in a little more depth. Remember, these are your most engaged followers so chances are they won't mind reading a slightly longer body of text about you.
Direct People To Your Content
Don't forget where your value as a creator is. You do operate mostly on social media, so you need to make sure that people are headed over there and engage with your content. This is how your career will advance with brand deals etc. The newsletter is good for instilling loyalty and building up an engaged fanbase, but they need to show that loyalty and engagement elsewhere. So whether you're running a webinar or podcast or have social channels, remind them to engage with your content too.

Be Consistent
You've probably learned from your social media career that posting consistently is key to success. The same goes for your email marketing campaigns. Talk to your community every week. If they've subscribed to your newsletter then they want to hear from you. However they won't want to hear from you too much… every day is overkill and will inevitably lead to people disengaging and unsubscribing. Having regular segments on your newsletter is a good idea and when you first start out you can switch them up and try new things to see what drives the most engagement.
Sell to Your Subscribers
Don't be afraid to sell things on your newsletters. Just make sure you're selling things that offer them value. Flogging things that only enrich you and don't offer any sort of benefit to your most loyal followers will not go down well. You need to prove that you are trustworthy and can offer something helpful before asking for money.
Top Tips
Here are two top tips to finish off with. Firstly, you're going to lose some subscribers - that's just how it is and that's okay. There are so many reasons someone might unsubscribe, don't take it personally and just focus on getting more signed up and keeping the ones you have. It would be all too easy to obsess and worry about why people are leaving but you shouldn't! Secondly, it seems counterintuitive, but you should be getting rid of your cold subscribers. You can see which subscribers are opening emails and clicking-through. Check every few months to see if there are any subscribers who haven't opened any emails - there will be some. Get rid of them! You want to be talking to people who want to talk to you! These cold subscribers are only bringing your stats down in terms of open rates.
There you have it. Everything you need to create a successful email list. You may still think you don't need an email list, I promise you, give it a go and you'll see the massive value it provides. Chances are, if you don't believe you need an email list then you probably haven't read this far… but still, if you have then do it!