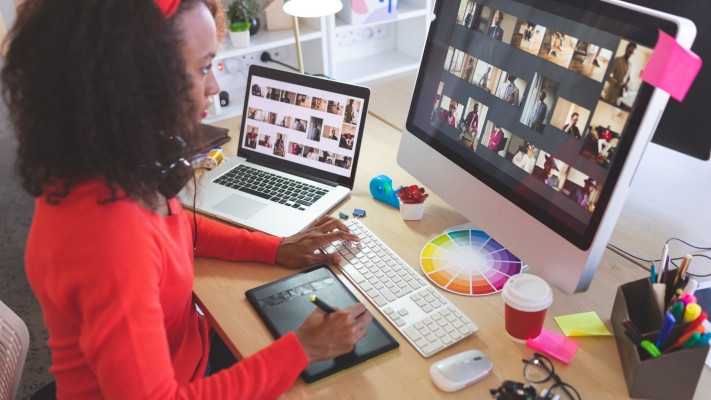 6 Free Photoshop Alternatives
08th November 2022
We live in a very visual world. Attention spans have drastically changed in recent years and are dwindling still. People don't like to read big chunks of text - he said, in a blog post… So it's important to make sure that the visuals that accompany your brand are spot on and engaging. However, the industry standard software, Adobe, is objectively expensive. And when you're starting out, it doesn't necessarily seem like the best use of your money to pay for it when you don't know the basics. So whilst you hone your craft, there are a number of free alternatives that will do the trick!
If you prefer to do all your editing on your phone, Photoleap could work well for you. It's an IOS-only (sorry Android users) app which includes automated photo editing. You can do all the basic photo editing tricks you need like removing redeye, removing blemishes and adjusting settings such as light and contrast etc. There are also a number of inbuilt filters and stickers so you can get the look you're going for without the price tag.
The real draw of Picsart is the social component. This app isn't just a photo editing software but a place for creatives to come and collaborate. You can invite others to participate in 'challenges' working on images together. There are extensive libraries and templates to get you started or of course you use your own images. If you're looking for a more precise approach this may be the one for you.
GIMP is a desktop based programme suitable for Windows, Mac OS and Linux. It was designed as a Photoshop killer! A lot of the features and functionalities are very similar. One feature in particular that is widely praised is the ability to share plugins for filters. Safe to say that the Adobe community is rather more active on this front, but GIMP's community is certainly one of its selling points. The interface is customisable, you can put your tools wherever you want them. GIMP is certainly for more advanced users, if you're really experienced, you can get the most out of it - no one will know you don't use Photoshop… The best thing of course is that it's open source and therefore totally free for all to use!
If you primarily work on Instagram, Prequel was designed with Instagram Stories in mind. The app has a plethora of filters and effects and some basic video templates all included. Good news for all you Android users, with your long battery life and high res screens, Prequel is available to you too. There have been some user complaints that it does lack the advanced functionalities of Photoshop and there's no option to erase specific steps, or wipe effects from only one part of the page. But overall, for basic editing, Prequel works well - try it out!
Photoscape X is designed with social media in mind. It's easy-to-use and particularly good at editing people-focussed images. It's perfect if you're starting out as it offers good basic features, you may find that it's not quite for you if you have more experience. The standard version is free but there is a Pro version with upgraded text and more powerful components. You can even create GIFs
If you're looking for a Photoshop alternative, something like Photopea is a good option as it's based directly on Photoshop - if you already have Photoshop experience, using this will feel nice and familiar. Unlike the other Photoshop based programme on this list, GIMP, Photopea supports PSD files. The developers have invested significantly in making sure the app is compatible with as many file types as possible - you can work seamlessly with Figma, Sketch, Illustrator, PDF, InDesign and many more. The slight downsides might be that because it's a web based app, you may experience some delays as your editing is processed - additionally you will have to endure banner ads in the free version which could be distracting.
Editing doesn't have to be a super expensive task, using one of these programmes or perhaps a combination of them all may be the solution to your editing woes. Perhaps you'll wonder why anyone bothers with Photoshop at all!